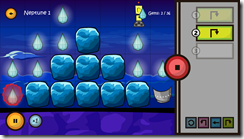 This summer 40 Microsoft Interns camped out on the 11th floor of the NERD Center in Cambridge, MA for roughly 13 weeks to produce 3 Windows Store apps, 2 Windows Phone apps and 2 Office apps as part of the Microsoft Foundry Internship program. I had the pleasure of working with these bright students as they produced their apps. This post is to highlight the Wee Coder app.
Description
An engaging educational experience targeted for children 3-11. Learn basic programming concepts such as sequential thought, looping and conditionals in a fun and interactive way by joining a little robot (Codey) on his adventures.
Come along with Codey on his mission to see all the planets in the Solar System. As he reaches each planet, his rocket falls apart. Help Codey rebuild his rocket by programming his movements through different levels.
This game features 80+ unique levels, comedic videos, interactive tutorials, a mini puzzle game, achievements and more!
Features
Great educational experience for kids 3+ year
Program Codey through obstacles on all planets of the solar system
Each planet is more difficult than the previous one. Learn basic concepts such as loops and conditionals
Collect pieces of Codey's rocket, and help him rebuild it
Take pictures with Codey when you finish all the levels on a planet
The Team
| | | |
| --- | --- | --- |
| Name | School | Role |
| Annie Tang | MIT | Designer |
| Mitchell Wills | WPI | Developer |
| Erik Waingarten | MIT | Developer |
| Ram Bhaskar | MIT | Developer |
| Henrique Polido | WPI | Developer |
Their thoughts
Our game actually works. The progression of levels has levels that appeal for the whole age range and there is noticeable improvement in the difficulty of the programs in each level. This game makes children think, but they are able to get through it and enjoy earning stars and taking pictures with Codey.
The only issue is the performance is RT devices could use some work. We have many objects to render in the screen at once and sometimes there is a small lag in the RT devices.
We are happy with the product we are releasing and we think that a lot of children will benefit. Maybe they won't know that they are programming, but they will definitely realize that they were if they learn programming in the future.
A Few Reviews



More Screenshots